Tanner and I moved into a new place in January, and since then I've been slowly decorating the apartment to make it feel more "homey."
One of my favorite rooms to decorate is my craft room/ guest bedroom, since that's where I spend a lot of my time: doing Etsy orders, drawing new designs, working on my homework for my children's book illustration class, etc. So I wanted to have a space that was both functional and inspirational.
Our last apartment had quite a small guest room, which meant that my crafting space was crammed into a small corner. At the time, this was fine, since my shop was just beginning and I didn't need much room. But since then, my shop has blossomed and I have more supplies and materials than I had space for. So this new apartment was really a blessing, as the rooms here are huge!
So here is a look at my new crafting space/desk:
The artwork above the desk was created by me. I basically took a couple Doctor Who quotes that I liked and made a series of three prints. Yes, totally geeky. But I love them. And now you can buy them for yourself here!!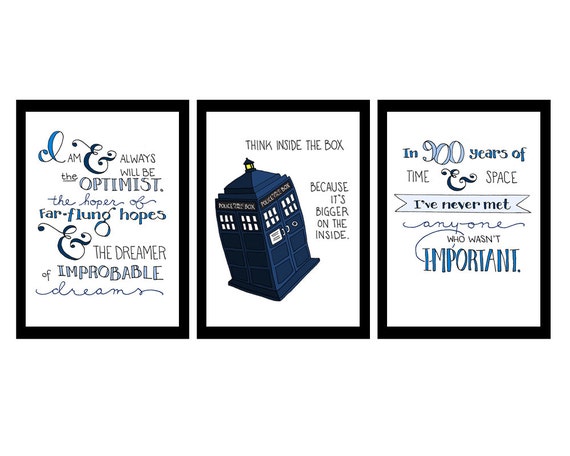 My newest addition is, of course, my lovely Epson printer below. It's huge, but I loooove it. It makes such pretty prints. Of course, I needed somewhere to put such a monstrosity, so I was on the hunt for a skinny table that I could use as both a table and a nightstand for the guest bed. After unsuccessfully being able to find a cheap one, Tanner suggested we go by Goodwill, just to check. I was skeptical about finding one, but lo and behold.... a skinny table with just the right dimensions for $15. Score!
I re-purposed one of our old bookshelves into a supply closet, holding all my paper, envelopes, shipping supplies, etc.
It's still a work in progress, of course, but the room seems to be coming together nicely! Now if only it weren't so damn hot up here on the top floor.... my next investment will be an air conditioning unit. ;)